---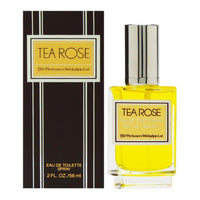 Product details of Tea Rose - USA - The Perfumer's Workshop Ltd - 56 ml
Size: 100 ml
Long lasting Perfume
Eau de Toilette
Rose Fragrance 
Made in USA
TOP: Peony, Chamomile 
DRY:  Geranium Leaves, Violet Leaves, Cedarwood
MID:   Tea Rose, Damask Rose, Bulgarian Rose
Tea Rose by Perfumer`s Workshop is a Floral fragrance.
Tea Rose was launched in 1977.
The fragrance features bergamot, rose, lily, tuberose, sandalwood, amber, cedar and brazilian rosewood.
What makes a true perfume classic? Some might say it's a scent that celebrates the most quintessential ingredients in the perfumer's palette, the raw materials that have brought us pleasure and delight for centuries.
Others might say it's a scent designed with the all the elegance of traditional fragrance structure.
Some might argue that it's neither ingredients nor design, but proof of real staying power on the marketplace.. Perfumer's Workshop Tea Rose is a true perfume classic because it represents all three: timeless ingredients, traditional structure, and a market performer prized by generations of women around the globe.
For forty years, Perfumer's Workshop tea Rose has enchanted women-and the men who adore them-with true, classic, well-balanced and authentic rose aroma.
Topnotes of crisp and velvety green violet leaves blend with the zing of sparkling aldehydes to capture the natural brisk freshness of roses on a misty morning breeze.
Heartnotes of pure blooming tea roe are enhanced by sensuous jasmine and the warmth of spicy clove.
In the drydown, soft and warm tones of violet wood help to support and sustain the overall impression of a living, natural rose.
There is no rose fragrance on the market today that is more timeless, more honest, or more classic than Perfumer's Workshop Tea Rose.
Specifications of Tea Rose - USA - The Perfumer's Workshop Ltd - 56 ml
What's in the box
1 x Tea Rose - USA - The Perfumer's Workshop Ltd - 56 ml