---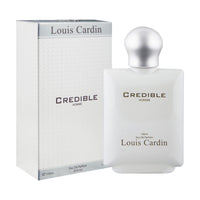 Never go out of style with Louis Cardin Credible Pakistan
Credible is a Floral Woody Musk fragrance for men by Louis Cardin. Louis Cardin Credible Pakistan is for the man who enjoys moderation. It contains a very appealing blend of notes that includes orange, green notes, floral notes, woody notes, gurjan balsam, musk, and leather. Everything comes together to form a scent that is strangely dark and sensual. Consider the word "woody." Consider seductive.
The scent is direct in the sense that it affects you immediately away, yet it is complicated in the sense that some notes give way to others over time. Louis Cardin Credible Pakistan is a seductive and warm scent that exudes confidence.
Product details
100% Original Perfume and Long Lasting.
Alluring Fragrance
Long-Lasting Effect
Average Lasting More Than 6 Hours.
Best for Projection, Silage & Longevity.
Safe For Skin
Ideal For Gift & Personal Use.
It is recommended for casual wear.
Credible Perfume Pakistan - A Scent To Admire
There are hundreds of fantastic men's perfumes, but genuinely famous scents are a breath of fresh air. Louis Cardin understands exactly how to make a captivating scent, and Credible perfume is no exception. Credible perfume Pakistan is a manly, intriguing scent that is excellent for everyday wear. The perfume is masculine, with sharp notes of wood and leather offset by floral undertones and a refined overall fragrance.
Launch Year: 2011
Top Notes: wood, citrus, floral, and musk
Credible perfume is a new spin on classic masculinity, combining woody aromas with fruity freshness. The Credible perfume Pakistan is less overbearing and sexier than others on the market, and it is warm, manly, and has depth – all you want from a woody daytime aroma. It is without a doubt the greatest midday smell you will come across. When a gentleman with a plan enters the building, expect a powerful scent profile that leaves no space for doubt.
What Is Louis Cardin Price In Pakistan?
Louis Cardin works on generating such distinctive fragrances that function on a deeper level of its owner, awakening impulses that are inherent in one's character. Louis Cardin perfumes have a refreshing overall character. Louis Cardin perfumes are top-of-the-line fragrances for men at a reasonable price. The Louis Cardin price in Pakistan fluctuates between 1900 and 2200 pkr. They're adaptable enough that you can wear them to work and then out to dinner without changing.
The longevity of a scent is just as essential as how it smells. After all, who cares how amazing it is if it vanishes before anybody can enjoy it? Louis Cardin perfumes are the definition of a contemporary classic, with its long-lasting aroma capturing the attention of everyone you pass. If you're seeking a great perfume that doesn't need to be reapplied and is long-lasting with excellent value for your money, try Louis Cardin range of fragrances available at Asan Bazaar.