---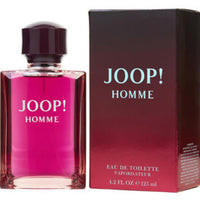 Product Details:
Joop Homme Perfume 125Ml - For Men
Highlights
High Quality
Long Lasting
Unique Fragrance
For daily use
Safe for skin
Description
JOOP! Homme Eau de Toilette is the quintessence of masculine charisma. Its distinctive, novel scent stands out from the crowd and penetrates deep into your sensory memory for good.
a sensual, oriental fragrance
for mature men who have firmly fixed views
for cooler days and evenings
The composition of the fragrance
The initial citrus blast of freshness contrasts with the warm accords of cinnamon and cardamom. These permeate the exotic heart of the scent, in which there is also a combination of jasmine, lily of the valley and heliotrope. The distinctive masculine, woody base of the Eau de Toilette contains sweet vanilla notes, patchouli, tonka beans and sandalwood.
The story of the fragrance
JOOP! Homme is a fragrance full of contrasts. It is fresh and spicy, warm and sexy. It goes beyond the bounds of the ordinary and is full of fascinating originality. Revel in the uniqueness of this Eau de Toilette and be brave, bold and firm in your views!