---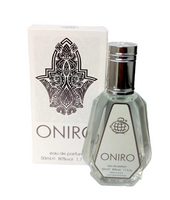 Oniro Fragrance World - A Confidence Boosting Fragrance
Oniro Fragrance World Spray gives you the aura you need each time and wherever you go. As the name suggests, Oniro is representative of the inner self. It's about daydreaming, unbridled thinking, and directing it outward to create a seamless connection with the world around you. Fragrance notes include; orange, grapefruit, mandarin, amber, moss, patchouli
Because Oniro Fragrance World is unisex, you can boldly douse yourself without concern of upsetting someone around. This is the ideal scent for individuals who want to add a touch of sensuality to their lives. This perfume is in high demand in the global market, owing to its quality and purity.
Features
Available in 50 ml and 100ml
Unisex fragrance.
Long-lasting
Best for everyday use.
No water fillers
Get Noticed With Alluring Oniro Perfume Pakistan
Enjoy each emotion as you relive memories and create new ones with the Oniro Perfume Pakistan. A classical and prestigious perfume that gives you the aura you need for every occasion, this long-lasting scent is aptly rich and tasteful. With intense silage to make your presence felt wherever you go, this rich fragrance can be a great icebreaker too. A fragrance that underscores your passion for life.
The mysterious and intense Oniro Perfume in Karachi, Pakistan is an absolute must-have for your collection. Exquisitely crafted, Oniro is a fragrance that captures the essence of intimacy. At once powerful and subtle, this rich and provocative scent seems to emanate from within your soul. Just what you desire to make a lasting impression without being over the top, Oniro Eau De Parfum's striking plush bottle also makes it a great gift to give.
What is Oniro Price in Pakistan?
Oniro Perfume radiates warmth and keeps its mystery long after it has evaporated. The scent is bold and dynamic and has a depth that seems to emanate from within your soul itself. The Oniro Price in Pakistan ranges from 550 to 650 PKR for 50ml. The fragrance brings an impression of warmth and comfort to mind and fulfills every one desire for power, passion, and the need for confident individuality.
It's time for a light, fresh scent that delivers a punch. In the scorching summer months, you can never be too careful about who you surround yourself with. Oniro Perfume's bold and sensual allure, shadows will have nowhere to hide- designed for adventure-seeking men.