---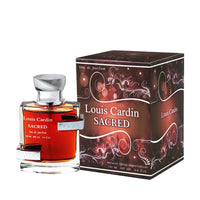 Delve in Musky Scent with Louis Card in Sacred Pakistan
Fragrances can be a close representation of your personality. However, whether you love flowery notes or woody flavors, your gender identity should not restrict the scents you feel comfortable wearing. Louis Cardin Sacred Pakistan strikes a stunning blend between manly tones and feminine floral mist. Louis Cardin Sacred Perfume has a scent that is both delicate and strong.
With its exhilarating scent, Louis Cardin Sacred Pakistan raises the standard for new acquaintances. This fragrance brings you to the jazz period, where daring was not only welcomed but also applauded, with top notes of Musk scent found in black and oriental base notes of Sandalwood. With this exquisite cult classic, let your scent do the speaking.
Product Details
Available in 100ml
Long-Lasting Fragrance
For Both Men and Women
Premium Quality Fragrance.
No Water or Any Other Filler
It's a fragrance that everyone should have in their collection. It is designed to intoxicate both men and women, making you the most attractive person in the room.
The Scent Stopper Sacred Perfume Pakistan
Sacred Perfume Pakistan by Louis Cardin combines a variety of ingredients to produce one of the most out-of-this-world scents that both men and women will enjoy. Because of the musky elements, this unisex fragrance is light and has a stunningly appealing scent that keeps people coming back for bottle after bottle. Many people desire to get their hands on this scent! If you like Musky and Vanilla tones, this is a little bit you can buy. It has a young perfume that fills your senses.
Sacred Perfume Pakistan by Louis Cardin has received good reviews from customers around, and many who have purchased it claim it is their go-to summer smell. Furthermore, it produces a powerful and refined fragrance, so you can use it to liven up a cocktail party or a dinner date.
Features of Sacred Perfume
Refreshing musky fragrance
Suitable for everyday usage
stays longer without fading away
intimate and classy scent
suitable for all skin types
What Is Unisex Louis Cardin Price In Pakistan?
Fantastic unisex fragrances don't have to be expensive. Surprisingly, one of the greatest unisex scents available is from Louis Cardin. They're wonderful enough to be your everyday perfume, and they'll take you from day to night with ease. Smelling nice is a crucial element of your image, and it's critical to invest in scents that appeal to your personality.
Louis Cardin's price in Pakistan ranges from 2200 to 3000 pkr. The scent of Louis Cardin will make you feel nothing except ecstasy. If you're looking for a burst of freshness, these aromas provide in spades. For the richness of musk, spray this genderless scent day or night. It's a sophisticated look that both men and women can embrace and flaunt. Their fragrances are a one-of-a-kind combination that will have folks wondering, "What are you wearing?!"If you are looking for an affordable Louis Cardin price in Pakistan look no further than Asan Bazaar.