---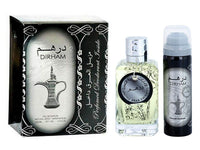 Dirham Perfume ARD Al Zaafaran Pakistan Burst of Freshness
Dirham Perfume by ARD Al Zaafaran Pakistan is a fresh, energetic perfume with floral notes and a somewhat woody undertone. It is a must-have daily scent that exudes freshness and cheerful energy. It has an outstanding design and a gorgeous glass bottle, making it ideal for a gift. All you need is a few sprays on and it will last the whole of the day, unlike other fragrances that require reapplication. The Dirham Perfume ARD Al Zaafaran Pakistan is suitable for every occasion.
The top note of Dirham Perfume ARD Al Zaafaran Pakistan is citrusy and fresh, then it fades to cold bergamot.
Roses, jasmine, and lavender make up the heart note, which is warm and enticing.
Sandalwood, cedar, and vetiver are combined in the base to give Dirham depth and majesty.
Fresh, flowery, bright, and somewhat woody are the main accords.
Other features
Suitable For women and men
Contains denatured alcohol (halal)
Quantity: 100ml Eau de perfume
Bottle with a spray nozzle
Dirham Perfume and Body Spray Pakistan are the Perfect Gifts for Every Occasion
Dirham perfume and body spray Pakistan are gentle Arabian fragrances that expertly mix fruity sweetness with sweet fragrance and musk. Dirham perfume and body spray Pakistan is one of the distinctive scent perfume oils produced by ARD ARD Al Zaafaran, a world-renowned, premium Arabian, and famous perfume maker. It has a long-lasting, pleasant smell. Dirham fragrances and sprays are scented with a fresh and sweet floral smell. They are noted for their distinct aroma and offer a one-of-a-kind blend of the exotic and the modern. If you want to buy Dirham fragrances and body sprays in Pakistan, Asan Bazaar is the place to go.
ARD Al Zaafaran is well-known for providing some of the most creatively designed Arabic dirham fragrances and body sprays at a reasonable price. The brand was formed to make high-end, unique perfumes more accessible to the general public.
What is Dirham Perfume Price in Pakistan?
Dirham fragrances have a distinctive and exotic aroma that distinguishes them and makes them readily recognized. They provide the user with a sensation of opulent elegance as well as the warmth of a millennium-long legacy. These are the ones that make an indelible impact so Consider them the next occasion you want to make an attractive scentful statement!
Undoubtedly, you want a good supply of perfumes so you can discover the ideal aroma for the right time, but you also don't want to waste your money on bottles that don't live up to your expectations. Dirham perfume price in Pakistan ranges from 1600 to 1800 PKR for 100 ml bottle. 'Dirham' is more than a trademark; it is a rich and appropriate alternative for both men and women with strong personalities. This scent provides a modern and unconventional picture of elegance where respect for customs, compassion, and a liking for shared pleasures are coupled with boldness and spontaneity for modern individuals. Asan Bazaar sells genuine dirham perfume online in Pakistan.